The trap bar was originally patented by a powerlifting aficionado named Al Gerard in 1985. He was trying to find a way to train around a recurring lower back injury.
The trap bar deadlift has gained support from many coaches as a back-friendly alternative to standard deadlifts and squats.
If you're not using a trap bar, you're missing out on a great tool. Or, you're only using it for deadlifts. The trap bar has uniquely positioned handles that are in a neutral position, making it a gym goers best friend. This equipment can be used in various ways to help you work out without causing pain. If you've been lifting barbells for years, the trap bar may be a welcome change from the routine.
Benefits of Training With the Trap Bar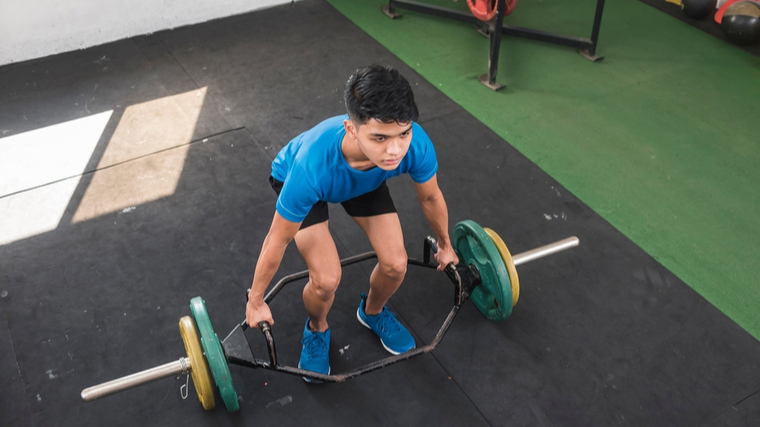 The trap bar has two handles, one set in a squared D shape above the bar and one level with the bar. The bar can be rotated so that either side faces up, making either pair of legs available. The weight is evenly distributed on either side via the sleeves at right angles to the handles.
The trap bar got its name from the way its hexagonal design traps the lifter inside the bar, aligning the weight with its center of gravity. This is an excellent tool for beginners to learn how to deadlift and for people who have had injuries in the past. There are many benefits to using a trap bar, including the following:
It's Easier on the Lower Back
This means there is less force on the spine when the lower back and hips are more in line with the load. If you have a history of lower back pain, this position will be easier on your back. A trap bar is an excellent option for athletes or lifters who want to focus on strength while reducing their risk of injury.
Reduces the Strain on the Wrist And Elbows
Gripping the barbell with an overhand and underhand grip can be challenging for those with previous issues with their elbow or biceps. A trap bar with a neutral grip is easier on the biceps, forearms, and elbows than a barbell with a mixed grip or a pronated or supinated grip.
Lift More Weight
The trap bar allows you to lift with a neutral grip, reducing strain on your upper body joints and lower back. The bar also helps to keep the weight lifted inside the bar, further reducing strain on your body. You may be able to lift heavier weights using a trap bar than you could a barbell because it puts less strain on your body. If you wish to strengthen your body, you should include trap bar training in your routine for more variety and the capacity to lift more weight.
5 Best Trap Bar Exercises
Is it a deadlift? The trap bar deadlift is often not well-liked by powerlifting people because they question if it is a squat or a deadlift. Is it a deadlift? If it's both, does it even count, bro?
However, this can be a good option if you do not compete or have a history of lower back pain. Since the weight is in line with the center of gravity, it puts less strain on the lower back than when the weight is out in front. The benefit of using a neutral grip is that it puts less stress on your upper body joints. Another bonus? The D handles allow for a shorter range of motion, which generally results in being able to lift more weight.
Trap bar squats have a limited range of motion, which allows you to lift more weight. However, some people dislike this exercise because of its limited range of motion. You still may want to do trap bar squats even though you won't have as much movement.
Elevating trap bar squats are an excellent exercise to try if you want to improve your range of motion. To do this exercise, you must stand on a small, elevated surface or weight plates and use the low bar handles. These adjustments will allow for greater knee flexion, placing more emphasis on your quadriceps.
Trap Bar Staggered-Stance Deadlift
The trap bar staggered-stance deadlift is also known as the B-stance deadlift. This move is performed with one leg behind you, offering support. Your front leg takes on most of the load to help out imbalances between the left and right sides.
This is a great way to improve your technique if you find it challenging to maintain good form when doing single-leg exercises. The staggered stance is easier on your lower back than the bilateral trap bar deadlifts because the support base is widened.
The trap bar bent over the row is less likely to cause lower back pain since the handles are elevated. This allows you to keep your back straighter, which is easier on your spine. That means you don't have to lean over as far to support the weight, which allows you to keep your back straighter and easier on your spine. With this move, you'll be using wider, neutral-grip handles.
This position allows you to use more weight than you usually would be able to with a standard barbell, which will put more strain on your traps, forearms, biceps, and lats. Lifters who use a neutral grip are usually stronger.
Trap Bar Romanian Deadlift
Traditional Romanian deadlifts can be great for your hamstrings and glutes, but they can also be tough on your lower back. Arguably one of the best exercises you can do for your lower back is the trap bar deadlift. This exercise is a potentially back-saving alternative if you have a history of lower back issues.
If you're doing a deadlift and want to keep the weight off the ground, you must stop it around shin level. The trap bar version may not make the hamstrings work as hard as barbell RDLs, but it puts less strain on the lower back. This is because your center of gravity is in the middle rather than the bar in front.
Trap Bar Deadlift vs. Squat – Which One Is Better?
The trap bar deadlift is much easier to learn than the squat because there are various ways to do it. This means that people who prefer deadlifting can do the exercises with more hip flexion, making the deadlift more like a traditional deadlift.
Some people find it more natural to squat with their torsos at a more upright angle, which is more similar to how people squat in many cultural contexts.
The trap bar deadlift and squat may elicit different results on the body.
A trap bar deadlift is a great way to improve your squatting or deadlifting ability while maintaining the strength and muscle gains you get from these movements.
A trap bar's design means that you can keep your torso more upright, which makes it easier to do the movement than with a traditional straight bar.
It also allows for a more range of motion in the knees and hips, which prevents shin scrapes at the bottom of the movement.
Trap bar deadlifts are a great way to build strength and improve the function of the posterior chain. These muscles allow us to walk upright and power our hip extension movements. The muscles on the back of our bodies will enable us to walk upright and power our hip extension movements.
Focusing on these muscles limits the risk of developing lower back pain and improves the ability to do athletic movements such as jumping, bounding, sprinting, and moving heavy weights around.
Instead of worrying about resting the bar on your back, you can focus on performing jump squats using the trap bar.
This makes it easier and safer to perform. One extra benefit of this exercise is that you can usually lift more weight than you could with a standard jump squat, which is likely to increase the power output of the movement.
The trap bar has the advantage of having neutral grip handles.
A straight bar with a double-overhand pronated grip is harder on the joints and provides a weaker grip than this grip.
Squats are very demanding and challenging exercises.
Unlike other exercises, a deadlift allows you to rest briefly when the weights touch the ground. Squats force you to stay active the entire time you do the training and carefully balance the bar on your back.
The muscles in your core work hard throughout the entire squat. You must maintain good posture to keep your body upright and support your lower back.
The trap bar can provide a squat variation that is not as demanding because, like a deadlift, you can pause the demand on your body at the bottom of the stroke.
Overall Benefit of the Trap Bar Deadlift Vs. Squat
Since the trap bar is designed to be stepped into rather than behind, it allows for a more comfortable and effective workout. The long lever is shortened along a horizontal axis. This significantly reduces the amount of force on the spine.
The straight bar deadlift and the barbell back squat can both be harmful to the lumbar spine.
Deadlifts require the weight to be some distance away from the axis of rotation where the work is being performed, which relies on the back to act like a crowbar to move the weight.
This means that the weight you can lift is limited by how much your back muscles can resist being bent and your legs' ability to produce maximum force to create full power.
If things do not go how they are supposed to, your spine will be affected.
A trap bar deadlift is a safe and effective way to strength train for professional athletes. And now, it's starting to become a more popular alternative. People are squatting less, using an Olympic bar, and incorporating a trap bar as an alternative.
The trap bar lines up through the body, keeping the load centralized, and requires less stress on the hamstrings and lower back. This means you are less likely to round your back when the weight is not on your shoulders. If you slouch, you're more likely to experience back pain.
Jump squats are a great way to develop explosive lower-body power.
The squatting movement is challenging to learn and master, so it's not practical to do it explosively.
The trap bar can be used in the same way. In addition, it is much simpler to learn the correct form.
Incorporating The Trap Bar Deadlift Into Your Workout Program
As the primary, knee-dominant exercise of the day, in place of squats, especially for those with back or shoulder injuries.
With the main hip-dominant exercise of the day, in place of traditional deadlifts, especially for those with a history of back problems.
As a hybrid hip-knee exercise to use as a stand-alone on days when you are not performing squats or traditional deadlifts.
With supplemental exercise on days where squats or deadlifts are the primary lifts of the day.
As an assistance exercise on dynamic effort days where speed and power are the primary focus.
Final Verdict: Trap Bar Deadlift Vs. Squat
If you want to develop power and strength in your lower body, you should include the trap bar deadlift and squats in your routine. You may also get additional benefits from doing both exercises.
Choosing which workout to add to your routine is entirely up to you.
Ideally, you should master multiple exercises. However, if you can only do one, ensure it's the squat. Other activities you do in the gym will be accessible in comparison.
Squats not only improve your ability to produce power by working your leg muscles, but they also improve your ability to absorb power by working your core muscles. This means that you'll be able to jump higher.
Some sports require athletes to be able to jump very high. This includes track and field, basketball, volleyball, and even football. If you like increasing your vertical jump, this program is for you. It would be best if you focused on squatting in the gym to improve your overall strength.
Squats will enhance your sprinting speed. This improved leg drive allows you to jump higher and… You will be able to run faster as well as jump higher.
Many studies have found a direct correlation between how much weight a person can squat and how fast they can sprint.
Most world-class sprinters significantly develop the quad, hamstring, and glute muscles.
Squats build mental toughness. This results in a lot of energy expended. The combination of heavyweights and many muscle groups results in much energy spent. This is one exercise where you'll need to concentrate and focus.
Squats are versatile. There are plenty of squat variations you can do. You can still squat without a barbell by using your body weight.
Some of the squats you could try are dumbbell squats, split squats, goblet squats, or barbell hack squats.